Choosing Between Release 12 or 11i
One of the most frequently asked questions at OpenWorld was, "Should I upgrade to 11.5.10 or Release 12?" Release 12 wasn't available at that time. Now that Release 12 is available, the answer is a bit simpler.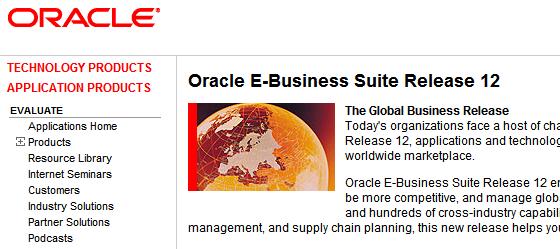 Not About the Technology Stack
First, the answer to this question is
not
about the relative merits about the technology stack for the respective E-Business Suite releases. At the heart of the choice between Release 11i and 12 is a hierarchy of business decisions, decisions that require broad and deep input from the stakeholders in your end-user community.
Assessing the Business Benefits


Back in the days when I was a management consultant, a system selection project could run for months (if not years). As with all business decisions in large organisations, your costs and benefits will likely be weighted by qualitative and political considerations, too. At minimum, if you're deliberating between a Release 11i (11.5.10) or 12 upgrade, I would recommend checking that your existing system selection framework includes variants of the following questions:
What's the prioritised list of applications that your business users use today? What are the differences in Release 11i and Release 12 functionality for those applications?


What business advantages, process improvements, and new organizational capabilities will be possible with the new Release 12 features?


What are the new architectural or deployment capabilities in Release 12? How will these new capabilities improve system performance, scalability, availability, manageability, and security?


What investments have you made in adapting your organisation to Release 11i, and vice versa? This might include:
Employee, partner, vendor, and supplier training
Customisations and personalisations, including custom Forms, OA Framework screens, workflows, concurrent programs, and reports

Integrations with third-party systems


Which of your customisations, extensions, and personalisations can be replaced with new Release 12 features? What savings will these represent? How much of those investments will carry over to Release 12?


How will Release 12 help reduce your operational costs? What are the incremental costs of Release 12 infrastructure, relative to your current Release 11i infrastructure costs? These costs might include server, storage, and networking hardware and licencing